AFFORDABLE

PRICES

FRIENDLY

& TIDY

WORK

GUARANTEED

LATEST

TECHNOLOGY
IS THE WOOD FLOOR IN YOUR DORKING HOME OR OFFICE LOOKING A BIT JADED?
Do you yearn to liberate it from its grimy prison and find out what it would look like fully restored?
Call in the Dorking RH4 premium wooden flooring experts today and see how a smooth, shiny wooden floor can transform your commercial or domestic property.
​The Dorking wood floor sanding and finishing team are masters of the art and science of restoring wooden floors in the area. We revive the most abject and dejected floors that often haven't seen the light of day for decades, and restore them to life. We've been providing homes and business premises across Dorking with a friendly, affordable wood floor restoration service for two decades, using the latest dust-free equipment and eco-friendly finishes. See your property transformed when we repair the boards, strip away the caked grime and apply a fabulous finish. You'll be astonished at the results.
​CHASING PERFECTION
One of the secrets of our success at the Dorking floor sanding company is that we strive always to improve our services. As well as having been in the business for 20 years now we are members of:
· The Federation of Small Businesses
· The Guild of Master Craftsmen
· The National Wood Flooring Association



We are a Junckers Approved Maintenance Contractor as well, and carry comprehensive 
insurance cover of £5million. Have a quick look at what other customers in Dorking have 
been saying about us by visiting our customer Testimonials page. 
THE PROFESSIONAL APPROACH
​
We approach each job we're asked to do, be it a hallway or ballroom, with the same degree of professionalism and passion. No job is too big or small. Whether we're repairing a few tiles in an old parquet floor in your dining room or carrying out a complete renovation of your high school assembly hall we approach the task in the same way.
From first contact to free cleaning kit at the end of the work you're in reliable hands with us. Contact us direct to get started with your free onsite consultation, or contact us direct.
LATEST NEWS, RECOMMENDED ARTICLES & TIPS
How to tell if your floor is rotting and what to do about it
Rot can be a serious problem in older wooden floors. It damages the floorboards and it spreads rapidly. However, even rotted floors can be restored to their former glory by experienced wood floor restoration experts. Of course, the sooner you notice that your floor is rotting, the fewer boards will need to be replaced during the restoration process, which can save a lot of time and money. But how can you spot a case of rot? There are several key signs that you should look out for. We'll discuss them in today's blog.

1. Spongy, sagging boards

Some people assume that lumps in their floor must be the result of rot. This isn't necessarily the case: lots of different factors can cause lumps to appear in wooden floors (such as gradual wood-warping or the use of inadequate fixings). In contrast, sagging floorboards are almost always indicators of rot. If a floorboard sags, it means its integrity has been degraded by rot and it needs to be replaced. If a floorboard feels spongy, it means it is even more severely rotted. You can't always tell if a floorboard is sagging or spongy by looking at it. However, if you walk over it, you should be able to tell what condition it is in.

2. Visible signs of moisture

Moisture is a common cause of rot. If you notice any moisture in your home, your wood floor may be in trouble. Unfortunately, it isn't usually evident on the surface of hardwood floors: you need to look at the underfloor to spot it. If you suspect that there is moisture in your home and it's affecting your floor, it's a good idea to check underneath the boards. If the wood floor you're concerned about is upstairs, you can also check the ceiling immediately beneath it for visible moisture stains.
3. Mouldy smell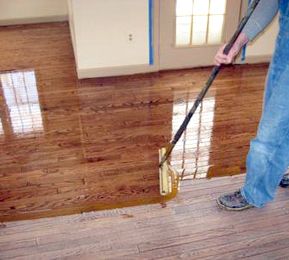 If you can smell mould and can't identify the source, it may mean that your wood floor is rotting. The odour of mould is often associated with rotting floors, so if you happen to smell it, check for saggy boards and signs of moisture immediately.

Here at The Floor Sanding Team, we offer a range of services, including wood floor restoration. If you suspect that your wooden floor is rotting, call us immediately so we can restore it as soon as possible.
For Beautiful Wooden Floors Call 01306 580 139 Now
BEFORE & AFTER